SUNDAY MAY 6th 2018, 12.00pm – 4.00pm.
Free admission. Stalls to include food & beverage, cakes & confectionery, crafts & gifts, fashion & beauty, jewellery & accessories, collectables & bric-a-brac, homewares and much more!
Market times may vary slightly (confirmed shortly).
Facebook links:
Event: www.facebook.com/events/1482666675118073
What's On in Corofin: www.facebook.com/CorofinCommunityEvents
Corofin Community Hall: www.facebook.com/CorofinCommunityHall
Festival of Finn: www.facebook.com/FestivalOfFinnCorofin
Traders & Entertainers Contact: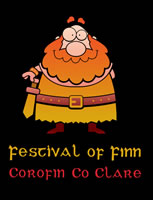 A: Corofin Community Hall, Church Street, Corofin, Co Clare (Miranda or Gerard)
T: +353 (0)87 8109375 (evenings/weekends) or text anytime
E: info@markets.corofin.org
F: PM the Corofin Community Hall & Field page
Spaces available inside and outside.